Your home. Your way. Whether your style is classic or quirky, refined or casual, you can customize without compromise at the Drees Design Center to get exactly the home you want. We'll work closely with you to create your ideas and vision, giving you the personal attention you need throughout the design selection process. From the latest home decor trends to our expert design consultants, we make a world of choices easy. Watch our Drees Homes Design Center video to learn what you can expect on your design visit.
Idea Gallery
A world of choices made easy!
"We never dreamed we'd be able to build a custom home like this!"
Express Yourself
At a Drees Design Center, we never forget that we're building a home exclusively for you. We are committed to your satisfaction and to the details that will make your new home an extension of your personality.
Our Design Center showcases:
A wide range of the finest selections available
The latest home building products handpicked from the best manufacturers
Only those products that meet our high building standards
The newest finishes and colors.
From cabinetry to countertops, you'll find an endless variety of choices with which to design your new home and make it uniquely yours.


Interactive floor plans*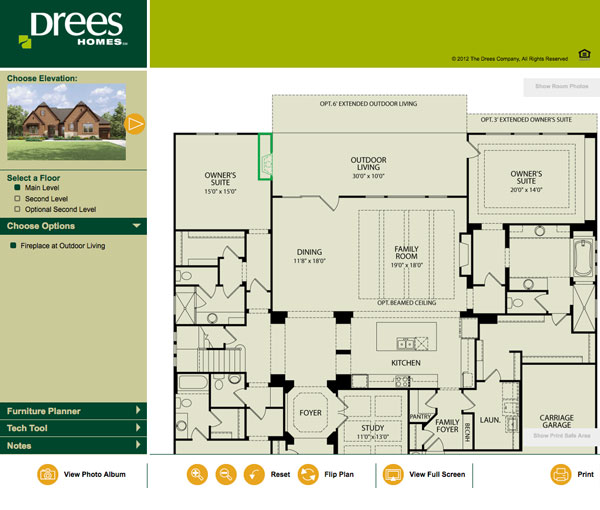 We make it easy for you to customize your home with a multitude of options already incorporated into our award-winning floor plans. With our interactive floor plans tool, you can select structural options and then save them to your computer. The tool also allows you to take notes, place furniture, and add items such as outlets and lights.
Ready to play? Check out our Interactive Floor Plans tool.
*Not all floor plans have an interactive module. Availability and pricing of options is subject to floor plan and community specifications.
We're Here to Help
We recognize how important it is to make your selections in a pleasant, unhurried atmosphere. Drees makes the design process fun, easy, and worry-free with previews, open hours, and personal attention. Drees Design Consultants are noted for outstanding customer service and insightful professional guidance. They'll work closely with you every step of the way to provide an exceptional experience in making the perfect choices for your new home.
Previews
Preview appointments allow you to browse Design Center showroom prior to your final selections appointment. You can familiarize yourself with all of the options, from carpet and faucets to shingles and siding. Assistance is available should you have any questions. By the time you leave, you'll be thoroughly acquainted with all the choices available to personalize your home. Ask your Market Manager about your Design Center's preview opportunities.
Open Preview Hours
Our Design Center also offers open preview hours on Saturdays from 9 a.m. to 3 p.m. that allow you to learn about everything our Design Center offers. At this time, you may browse the Center as you please, where there will be an assistant available to answer your questions. The colored medallions that you will see attached to each sample make it easy for you to select the features and choices that best suit your budget. Make sure you get the separate handout from your Community Market Manager that refers to the standard feature level for your community.
Final Selection Appointment
Once your contract with Drees has been accepted, the Design Center coordinator will call you to set up your final selections appointment. During your appointment, your Design Consultant can answer any remaining questions you may have and will record your choices.